Puppies available
The females will bee in the heat :

In the July 2018 - Jawa Aritar Bastet
In the August 2018 - Chance-Shi Aritar Bastet

We are expecting our puppies in the Autumn 2018.
For our females we will use top stud dogs.
Reservation is possible now.


Julie Aritar Bastet has puppies - birth 21. June 2018

We have 7 puppies: 5 black sable males and 2 females
(1 black sable, 1 all black).
Photos puppies.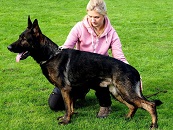 Dronko vom Alten Försterhaus
Born:
14.1.2013
Breed survey:
I. Körkl
Class:
excellent
Hips:
HD a normal ,ED a normal
Tittles:
IPO3, BSP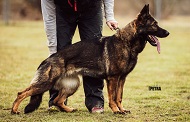 Julie Aritar Bastet
Born:
10.5.2015
Breed survey:
I. Körkl
Class:
very good
Hips:
HD a(0/0), ED a(0/0)
Tittles:
BH,IPO 3